Argentina Soccer....The Other South American Powerhouse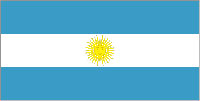 How far has Argentina soccer come over the years? As the western neighbour of powerhouse Brazil, Argentina has over time become an elite team in their own right.
Argentina frequently produce some of the world's best players, and currently count as their own perhaps the best player on the planet in Lionel Messi. Over the years their talent has always been top notch, seeing to Argentina capturing World Cup titles twice, in 1978 and 1986.
Argentina's soccer culture is born on its streets, with players spending hours a day with the ball at their feet, simply playing with their friends. The kind of close ball control that is developed here is something that is very evident in some of Argentina's greatest players including of course, Diego Maradona and Juan Roman Riquelme.
La Albiceleste....?
Nicknamed after their distinctive white and sky blue uniform, la albiceleste have been perennial contenders at each tournament. While their World Cup success has been modest, they have won successive Olympic tournaments, most recently in 2004 and 2008. Furthermore, their development league is one of the best in the world, a direct result of the Latin American style of play employed by the team.
What does Argentina Soccer look like?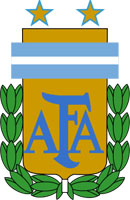 Argentina's game is very much about possession and ball control. Players will often attempt to take each other on 1-on-1, which creates much excitement and helps them develop into the incredible attacking players we see. Their game is generally up-tempo, with many direct runs at goal and a heavy attack focus.

Like most other South American nations, this attack focus can lead to defensive weakness for Argentina. The strategy is very fluid, and there is often times little structure or discipline.

The poster child for this particular style was Argentina's coach during the 2010 World Cup, Diego Maradona. During his career, Maradona played a very take-no-prisoners style, with fantastic individual flair but unfortunately, little in the way of discipline. Despite a brilliant run to start the 2010 tournament, Argentina's defensive weakness was eventually exposed in a 4-0 rout at the hands of Germany.

Take a look at other soccer styles:

Return from Argentina Soccer to World Soccer