Importance of Correct Soccer Field Layout
At the risk of stating the obvious, a soccer field of sufficient size and with the correct markings is necessary in order for a match to be played. Law 1 of the FIFA Laws of the Game deals with the details concerning the playing surface and sets the standards for all fields.
Soccer Field Size
In this case, the picture tells the story. The soccer field diagram below outlines the correct size and markings that a field should possess.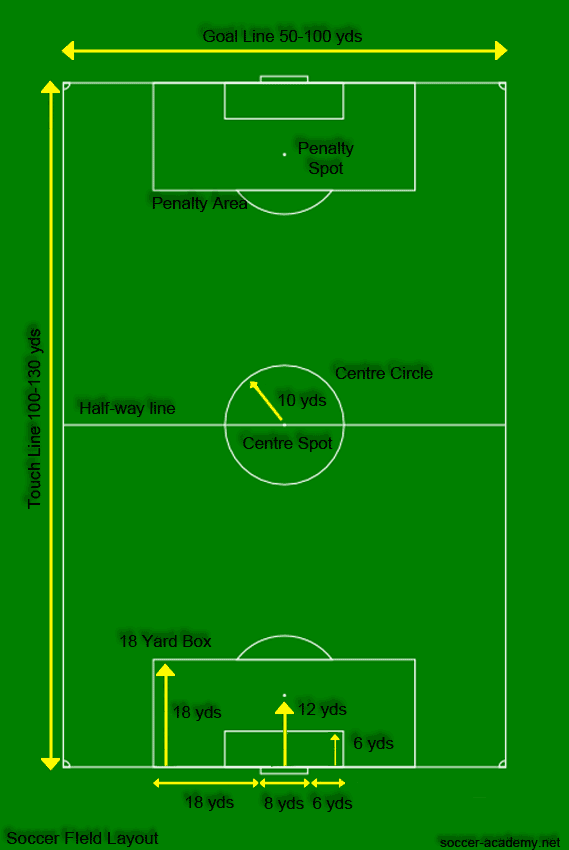 Usually, correct soccer field width would be between 50-100 yards (45-90m), and the correct length somewhere between 100-130 yards (90-120m).
Soccer Field Layout and Markings
The Laws of the Game outline, in intense detail, the correct markings needed on the field of play.
First and foremost, any artificial surface must be green.
Next, the field must at minimum have markings for:
the touch lines running the length of the field;
the goal lines running the width of the field;
the halfway line;
the center circle around the center spot;
Oh, and just in case you thought FIFA wasn't thorough enough, the markings themselves must be the same width, and can't be more than 5 inches in width. How's that for attention to detail?
Goal
A goal is required at the center of the goal line at opposing ends of the field. Each goal mouth must be 8 yards wide and 8 feet in height. For the safety of all players, goals must be anchored into the ground and in case you were thinking of painting the posts and crossbar an interesting color, the rules state that they must be white.
Corner Flags
Corner flags are also a requirement. The rules state that each corner of the field must have a flag, and that each one should be at minimum 5 feet in height. Some fields will also have flags at the halfway line, but this isn't necessary.
International Matches
International matches have much more strict regulations regarding soccer field layout. A field for international play must be between 110-120 yards, and be between 70-80 yards in width.
Return to Soccer Rules from Soccer Field Layout