Soccer Shoes: Fit is Everything!
Despite all the advances in soccer equipment technology in recent years, even the most expensive shoes won't make you into a better player.
A Quick Note On Indoor Soccer Shoes...
Indoor soccer boots are quite different from outdoor ones, and as such should only be used when playing on the surface for which they were designed.
If playing on a hard surface like the ones that futsol matches are typically held on, a shoe with a gum sole is ideal. The rubber based sole will provide excellent traction on the hard, gymnasium-like floors that these matches are held on.
Luckily, as a soccer player you're not going to need to invest thousands of dollars into equipment like in some other sports. With that being said, it's important to pick out the right pair of shoes for you and, most critically, make sure they fit!
Adidas and Diadora soccer cleats tend to fit wider then the rest, and are a good choice if your feet are wide.
Nike shoes tend to fit narrow, and you may notice some discomfort, especially inititally.
Keep in mind that soccer shoes are narrower than most regular shoes, so they can all seem a little uncomfortable at first if your not used to it.
In any case, you'll want the shoes to fit snug, with a half-finger length or so between the big toe and point of the shoe.
Make sure you stand up when trying them on to assess the fit. Run a few strides to get a feel for what they fit like when in motion.
Each brand will generally fit differently, so try them all. And when you find a brand that you find fits your foot best, my advice is to stick with it. Switching brands can sometimes be very painful as you'll have to break in an entire different style of boot.
Materials
Leather
First of all, despite all the advances in soccer shoe technology in recent years, leather shoes are still king to many players. Shoes are primarily made from two kinds of leather: calf and kangaroo.
Calf Leather
More inexpensive than kangaroo leather
Good comfort and touch once broken in
Not as soft or water resistant as kangaroo leather
Kangaroo Leather
K-leather shoes are among the most expensive on the market
Provides superior comfort and touch
Much more water resistant than any other material
Synthetic
Much lighter then leather shoes, and as a result, they can make an excellent choice for the player concerned with speed.
Do not break in as much as leather
Can be uncomfortable, depending on the synthetic used
Feel of the ball can be less accurate than leather
Cleats
Round Moulded Studs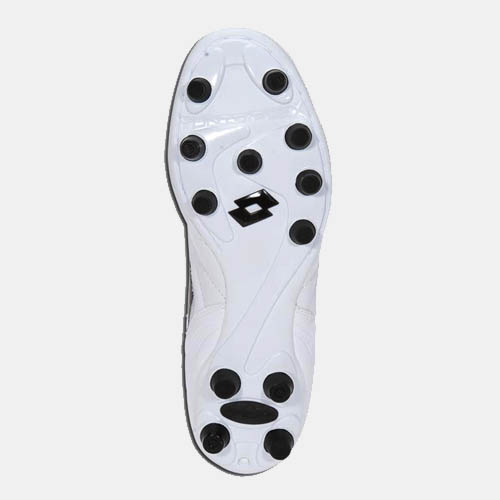 These were for a long time the most common types of cleats found.
Consisting of 10-15 round studs which are made of rubber and moulded into the sole of the shoe, they provide good support for the foot and help prevent blisters.
Often known as firm ground (FG) cleats, they're best used on dry fields as they provide little grip in muddy or wet conditions.
Blades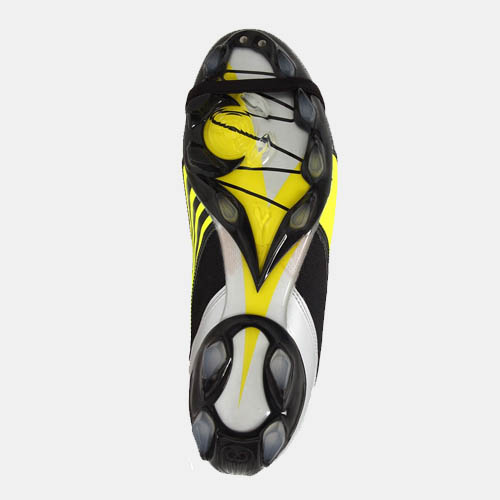 Blades are probably the most common type of cleat found on soccer shoes today.
Named because they look like knife blades that are attached to the sole of the shoe in a circular pattern.
These cleats are designed to provide grip while also providing superior turning ability, but don't provide the same amount of stability that traditional round cleats do.
Screw-In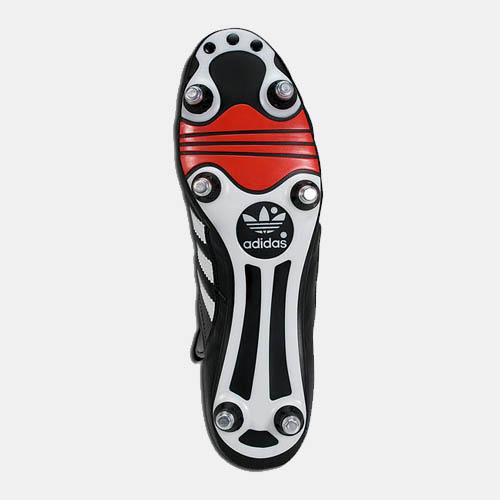 Screw-in studs are the transformers among soccer cleats: the cleats can be swapped out depending on the conditions. For example, longer cleats can be affixed in wet weather, while shorter studs can be put in when drier conditions are prevalent.
The example at right shows a 6 stud, screw-in design, but traditional multi-cleat screw-in shoes are available as well.
Turf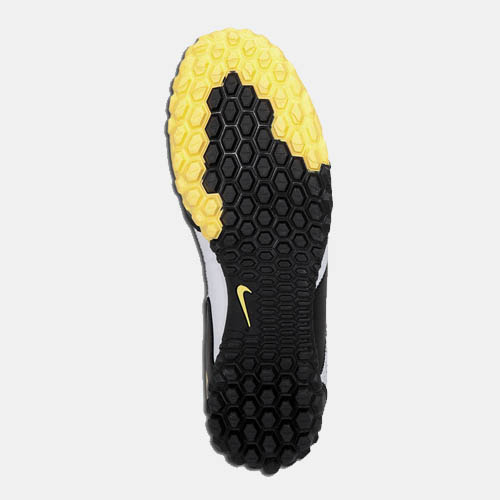 Turf shoes have cleats that look like dozens of little pimples which are attached to the sole.
Shoes with these cleats are meant to be used on artificial surfaces like Astroturf, typically found indoors.
The dozens of cleats on the underside of the shoe provide excellent traction for the quick starts and stops that are a part of indoor soccer.
Beginners Soccer Shoes
When you first start playing soccer you should look for three things in the shoe you purchase: comfort, comfort, and comfort. At this point, nothing else matters.
A good wide-soled, calf leather boot is fantastic for starting out due to the comfort and improved feel that come with leather, as well as the reasonable cost.
Round studs provide better support, can be used on more surfaces, and protect against injury better than other layouts, therefore they are preferable for the beginner player.
Cleats for Advanced Players
As you become more proficient, it's important to choose your shoe based on your position and style of play.
Strikers may want to look at a shoe that is light, due to the need to accelerate quickly to beat defenders. Offset or covered laces can also be helpful because of the added precision they provide when kicking the ball.
Most midfielders are generally not as concerned with speed as strikers. The midfielder's job consists of much more running, and because of this, a shoe that puts comfort first is ideal. Again, round cleats with a k-leather upper that moulds to your foot will provide the most comfort.
Defensemen will want to purchase a shoe that is sturdy and durable, as they will be the ones punishing they're shoes the most.
Some shoes, like certain soccer cleats from Under Armour, provide protection to the parts of the foot that receive the most contact, and should be considered if preventing injury is your top concern.
Quick rotations and turns are another part of the defenders game, therefore shoes with bladed cleats may be an advantage due to the superior pivoting ability these cleats provide.
Return to Soccer Gear from Soccer Shoes